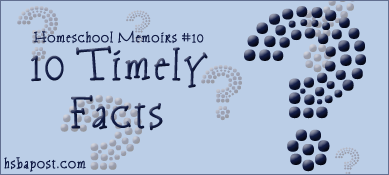 We all have little quirks that make us unique, Stories, backgrounds, perspectives, appearances, habits, roles, and situations. This week for Homeschool Memoirs we are to share at least 10 of these individualities. I have shared some of these through different tags in the past.

1. Out of 7 girls trying out for cheerleading at my high school, 6 would make it. I was the one that didn't (this is always a great excuse to not be the cheerleading coach at the schools I have worked at). People don't ask twice when they hear that.
2. I lived on an island in the Bahamas for a year
3. I like to learn foreign languages, or at least parts of them. I can say, "I don't speak _____" in at least 5 different languages. And can say various words and phrases in 10 languages (English, French, Spanish, Hebrew, Hungarian, sign language, German, Japanese, Chinese, Telegu)
4. I am the fifth of seven kids, named in alphabetical order (Aileen, Beth, Cindy, Dave, Erin, Flynn, and Grant)
5. I have taught everything from preschool through high school in a traditional school setting.
6. I like to eat just about everything except cherry pie, ginger, and cranberry sauce
7. My husband delivered our fourth child in the front seat of the car, in the 7-11 parking lot four blocks from the hospital. To hear that whole story, check out this post.
8. I teach a homeschool drama class
9. I have a hard time saying 'no' to homeschool and ministry opportunities
10. Nutrition and health are of high importance to me
And, a few bonus facts:
- I enjoy folding laundry and filing paperwork
- I have never pierced any part of my body (including my ears)
- Missions is a passion of mine
- I love to read
- I enjoy running for exercise 3-4 days a week
- I would love to write a book some day
- I am the only brown haired person in my house. My husband and four of our kids are blond, one of our kids is a red-head, even our dog is blond!

- Being a wife and mom is more incredible than I ever imagined growing up
I'm sure I could add more, but I better get to breakfast. I'll probably be adding to this list mentally all day . . . I'll have to update later.