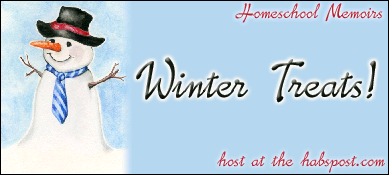 Each day my kitchen has a different scent this week. Chex Mix, Toffee Bars, Sugar Cookies, so many goodies, so many calories! I had prepared for Christmas a couple months ago with a mass baking campaign, but somehow, none of that is left . . .

So, we begin again. And, for Homeschool Memoirs they happen to want our favorite winter treat recipes posted, so I figured I would share one of my favorite standbys and a new favorite.
This was the first year for trying these Toffee Candies and they were a huge hit. The original recipe called for saltines, but I made them with graham crackers and we loved them.
Easy Toffee Candy
On a baking sheet lay out graham crackers broken into halves or quarters
In a small saucepan over medium heat melt:
1 stick butter
1 cup brown sugar
Once the mixture is well combined and gooey, pour evenly over crackers.
Bake at 350 for 7-10 minutes, until bubbly.
Remove from oven and sprinkle 1 1/2 cups chocolate chips.
As chocolate melts, spread it around evenly.
Refrigerate until set then break apart and enjoy!
And, my absolute favorite cookie . . .
Chocolate Buttersweet Cookies
Cookie:
1/2 cup Butter
1/2 cup powdered sugar
1 teasp. vanilla
1-1/4 cups flour
Cream butter.
Add Sugar and vanilla gradually
Add flour
Shape by teaspoons into balls on ungreased cookie sheet.

Press in centers
Bake in preheated 350 oven for 12-15 minutes until delicately brown.
Fill while warm, then cool to frost.
Filling:
soften 3 oz. cream cheese
1 cup powdered sugar
2 Tbsp flour
1 teasp. vanilla
1/2 cup coconut
1/4 cup chopped nuts (optional)
Topping:
Melt together:
1/2 cup chocolate chips
2 Tbsp butter
2 Tbsp water
1/2 cup confectioners sugar
These cookies are amazing!