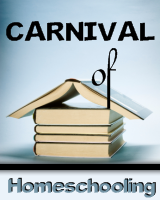 The
151st edition of the Carnival of homeschooling
is up for your enjoyment and education.
Check it out!
I enjoyed reliving the
"cup rhythm"
that I first saw at a Rich Mullins' concert many moons ago and got quite proficient at.
There was also an interesting
post on Thanksgiving
, with some great links.
Feel free to look around and be inspired.